Candera exhibited at the 15th AUTOMOTIVE WORLD 2023, a trade show featuring cutting edge automotive technology that was held at Tokyo Big Sight between January 25th and 27th.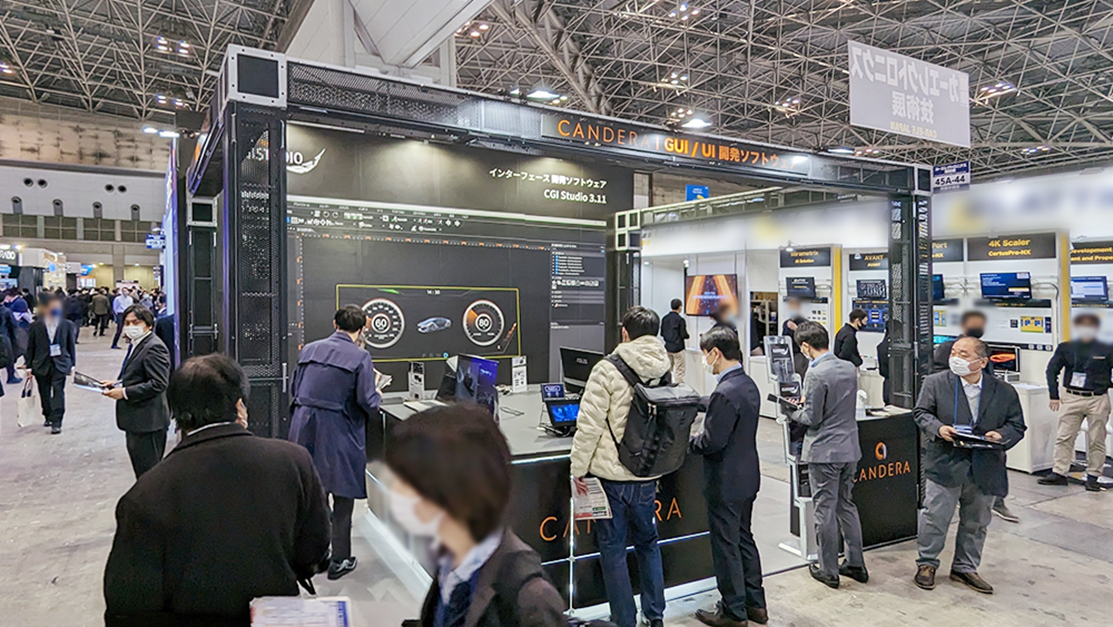 AUTOMOTIVE WORLD is an event where the latest technology in the automobile industry is shown off. This includes advancements in automotive electronics, connected cars, autonomous driving, and more. This year's iteration was one of the largest events of its kind since the start of the COVID-19 pandemic, seeing more than 75,000 attendees over the course of three days.
Every year since it was founded Candera has shown off their latest innovations at AUTOMOTIVE WORLD, and this year as well saw many people stop by the Candera booth.
At Candera's booth, a new demo was on display for an HMI that uses LiDAR (Light Detection and Ranging) to assist in parking a car. By using such an HMI, the driver would be able to get more accurate information about objects surrounding the car than what a camera can provide.
With LiDAR, an object is targeted with a laser and the time for the reflected light to come back is measured in order to determine the distance to and shape of the object.
This technology has the benefit of being relatively inexpensive, allowing it to be easily implemented into a vehicle.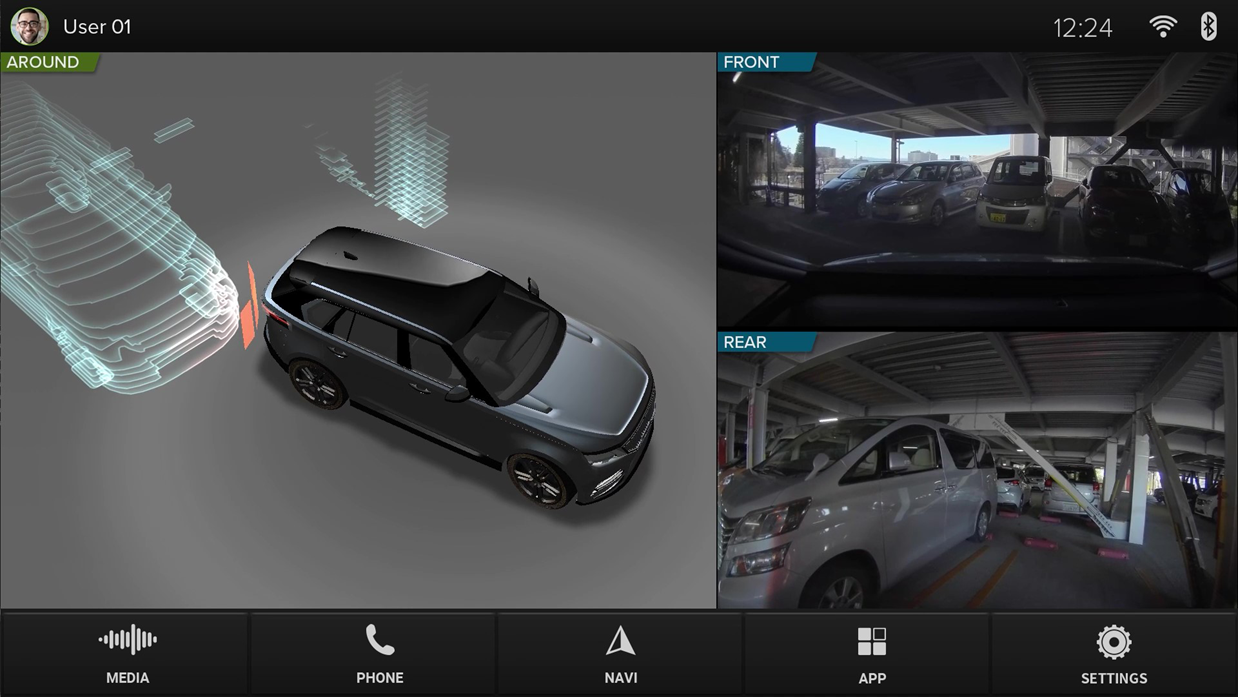 In addition, Candera also showed off a demo for a multi-display solution that runs on Renesas Electronics' R-Car H3 SoC (system on a chip). This demo features three separate screens for the meter cluster, IVI (in-vehicle infotainment), and heads-up display respectively. It also uses the multi-display feature of CGI Studio to achieve linking between multiple displays on a single SoC, all without requiring the user to do any coding.
Candera also showed off a demo for a digital meter cluster for an EV (electric vehicle) that features important information for an EV such as the battery charge and nearby charging spots. This demo uses new "Control" features introduced into CGI Studio last summer with the 3.11 update which help the user easily integrate bar and line graphs. With this demo, Candera showed their commitment to creating the future of automotive UIs and realizing a more sustainable society.

Video of the EV meter cluster
https://www.youtube.com/watch?v=jkR4wbJVgwo
There were also a number of other demos featuring CGI Studio that were shown off at the Candera booth.
With over 20 years of experience in embedded software development, Candera offers a customizable product for our broad customer base. We work closely together with our customers and industry partners to provide solutions for both current and future HMI needs.
Learn more about Candera's HMI solutions found on over 50 million devices worldwide:
https://www.canderajp.co.jp/en/candera_jisedai/
Request a trial version of CGI Studio:
https://cgistudio.at/hmi-design/
About Candera
Candera is a leading HMI tool provider and development partner for worldwide automotive and industrial customers. Candera supports its customers via the embedded HMI design tools Candera Studio and CGI Studio, the HMI authoring tool UI Conductor, and through the provision of services in the areas of HMI development and embedded software.
Corporate site: https://cgistudio.at/
Candera Japan site: https://www.canderajp.co.jp/en/
Facebook: https://www.facebook.com/canderacgistudio/
YouTube: https://www.youtube.com/channel/UCZyzdK8yFY52Ot-SvaGkM_A
Twitter: https://twitter.com/CanderaGmbh
Instagram:https://www.instagram.com/candera.gmbh/
LinkedIn: https://www.linkedin.com/company/candera-cgistudio/
Contact Information:
Pacific Marks Shinjuku Park Side 2F, 4-15-7 Nishi-Shinjuku, Shinjuku-ku, Tokyo 160-0023
e-mail: [email protected]