As a leading international world fair with its exclusive focus on embedded technologies, the Embedded World Exhibition & Conference reflects the main trends of the sector. From 26th to 28th February, 2019 more than 1100 exhibitors from all over the world showcased their products and services at the exhibition center in Nuremberg/Germany. It was the first official presentation of the new company CD (Corporate Design) of Candera GmbH (formerly Socionext Embedded Software Austria) that recently had been bought by ArtSpark HD in Tokyo / Japan (details about the transfer of ownership see below).
Candera was presenting a mix of innovative HMI solutions and technologies in the area of embedded HMI design – the latest novelties in the fields of Automotive HMI design and embedded software. One of the highlights at the Candera booth was the "Holi Cluster & IVI Solution" a completely new designed holistic showcase based on Candera's innovative HMI Design tool, CGI Studio.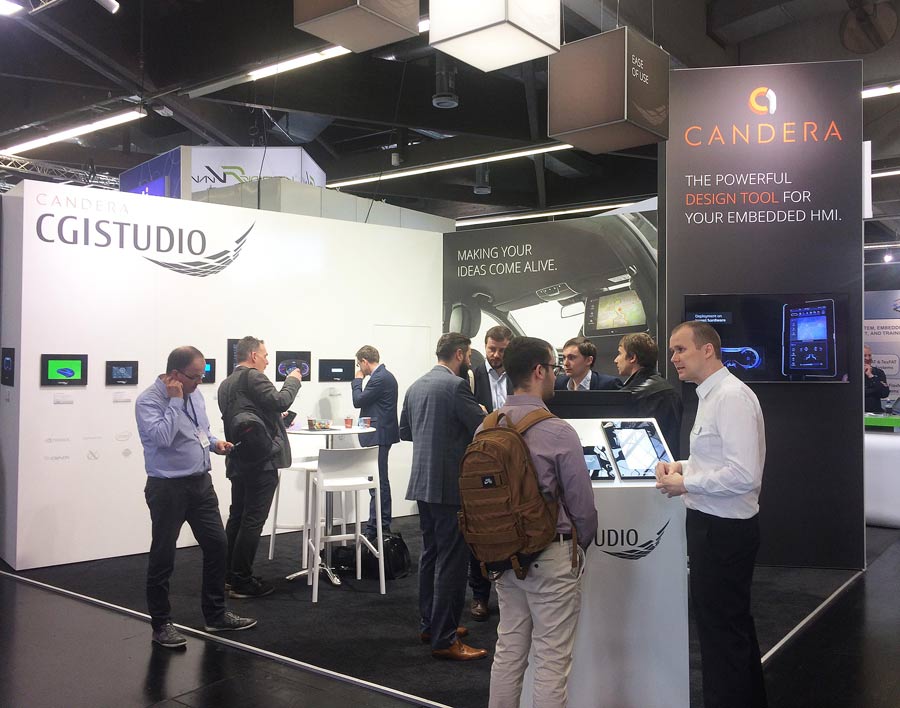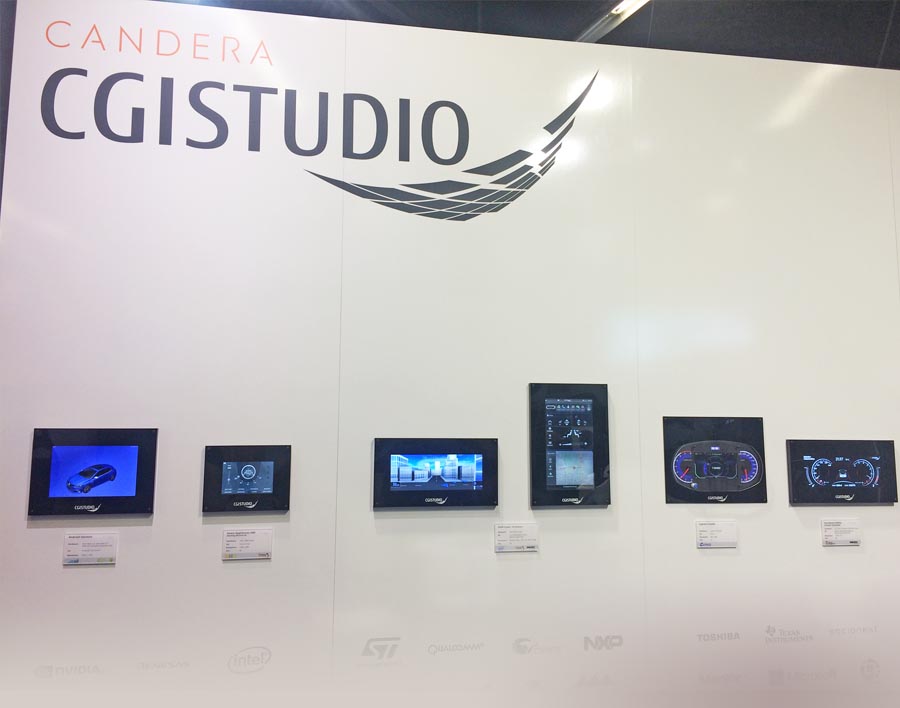 Candera was presenting and exciting mix of innovative HMI solutions at its booth in hall 4.
Candera's HMI solutions based on different targets like Kirin 960s (Android), NXP, Intel, Cypress and TI (from the left)
New: Holi HMI solution
Candera's new Holi solution has been created with CGI Studio and is based on Android/Linux. It shows, how multiple displays are perfectly interacting and communicating with each other. This is possible due to Candera's powerful messaging and data binding tool Courier Interaction Framework for smooth interaction between the HMI application and external data sources. Based on modern hypervisor technology this holistic solution combines both: seamless communication and maximum user experience.
Additionally to the Holi HMI Candera was showcasing solutions based on innovative technologies like hypervisors, functional saftey and hardware like Renesas, Intel, Socionext, Android and many more.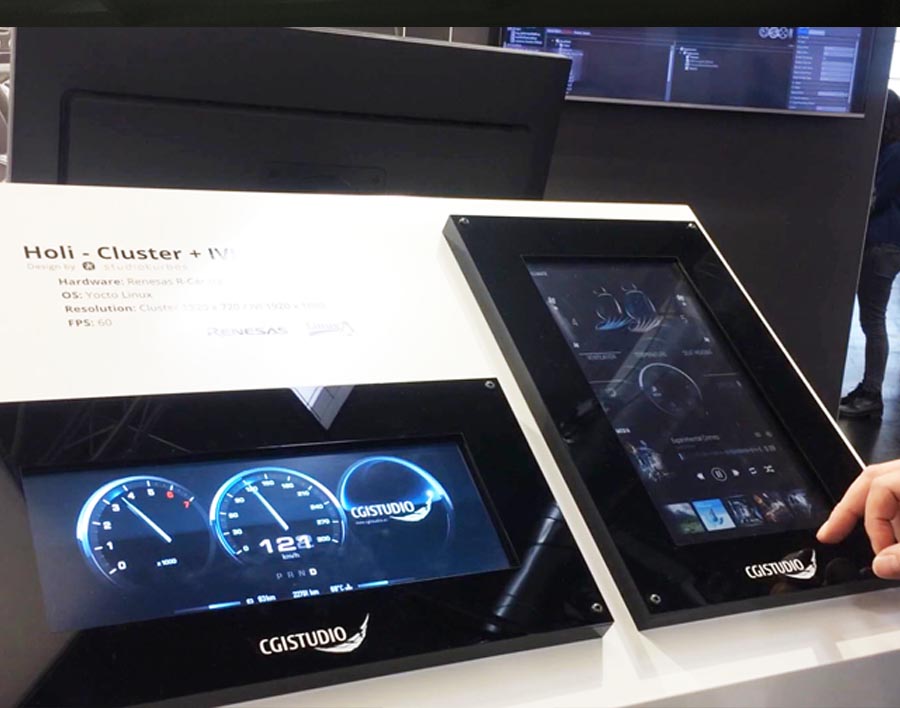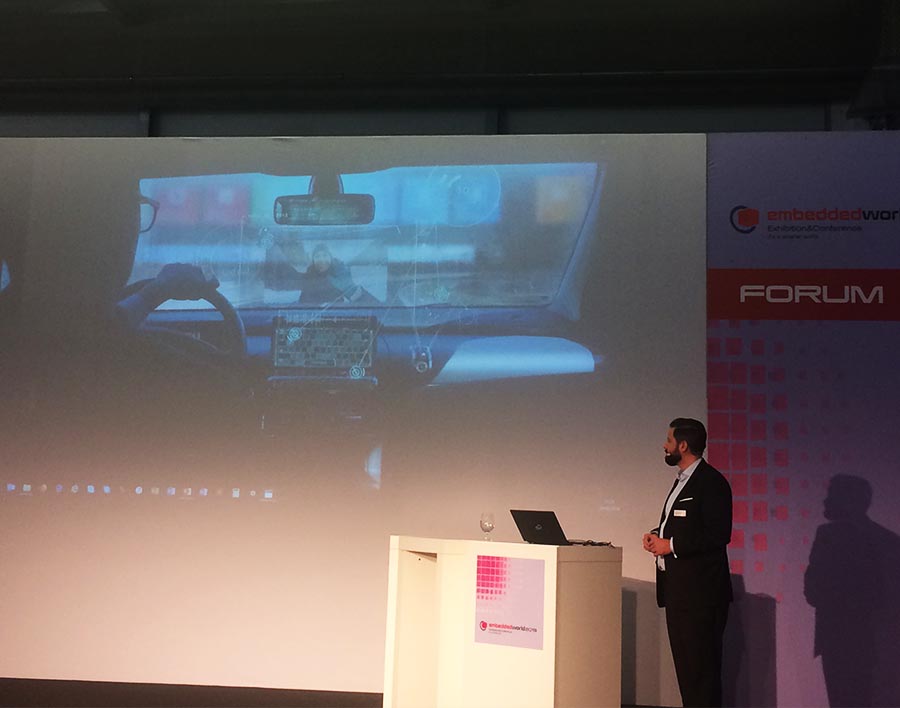 One of the highlights at the Candera booth: holistic cluster & IVI solution
Thomas Kaufmann (Candera sales manager) talking about holistic HMIs at the exhibitor forum
Presentation at the exhibitor's forum
Thursday 28th, at 11:30 am, Thomas Kaufmann, Candera Sales Manager, was talking about the holistic HMI approach at the exhibitor forum in hall 3. For all those who missed this interesting talk, a live recording will be available soon within the next weeks and we will share it with you.
Great "premiere" for Candera at Embedded World
ultima modifica:
2019-03-01T11:00:50+02:00
da