As the world's leading international trade show for electronic components, systems and applications the Electronica 2018 in Munich / Germany closed its doors at November 16th with record-breaking results: more than 80,000 trade visitors from over 80 countries came to Munich to join the exhibition and around 3,100 exhibitors from over 50 countries provided an insight into the electronics of the future with their solutions and products. This year Socionext Embedded Software Austria attended Electronica with its own booth presenting an exciting mix of innovative solutions and technologies in the area of embedded HMI design – a successful "premiere" for SESA and its HMI development tool CGI Studio.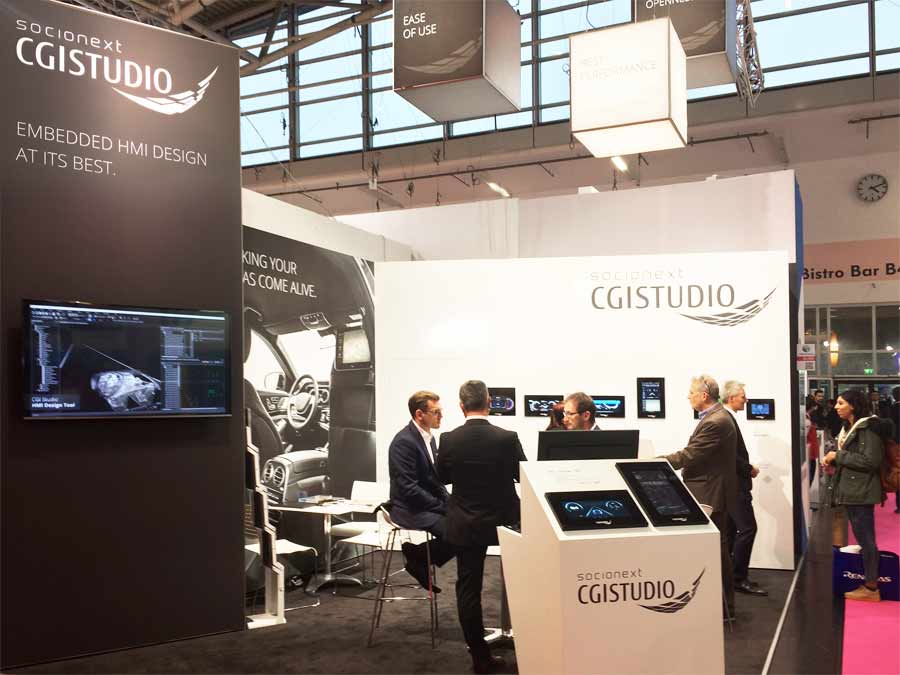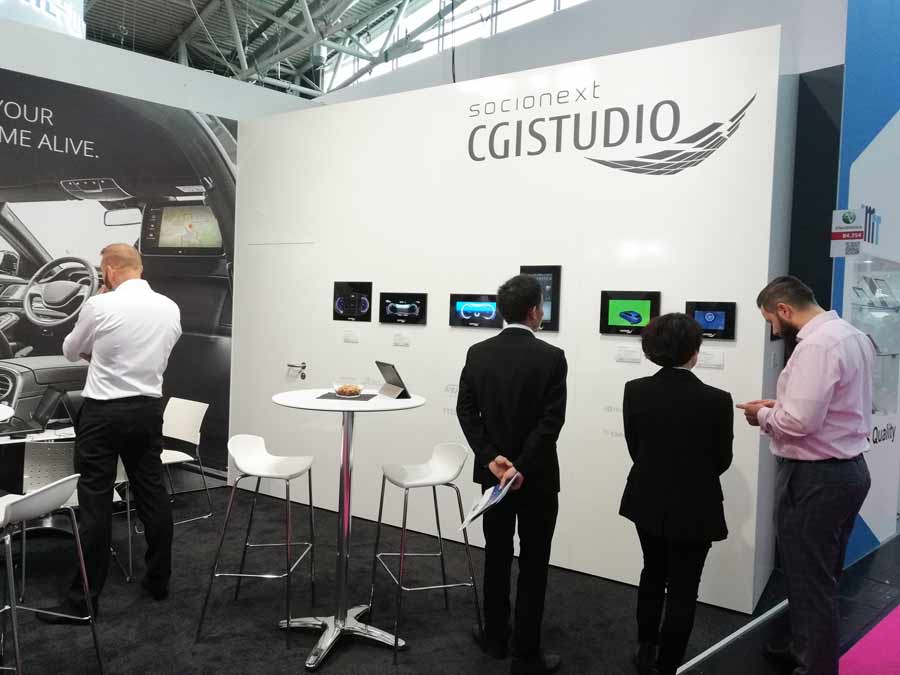 SESA was presenting an exciting mix of innovative HMI solutions and technologies

At its booth in Hall B4 SESA showcased multiple HMI solutions based on target hardware like Socionext, Intel, Renesas, TI, Cypress and many more. The new Holi solution based on a holistic HMI approach attracted a great deal of attention.
Holi Cluster + IVI solution
SESA's new holistic HMI approach has been created with CGI Studio and is based on Android/Linux. It enables the perfect interaction and communication between a full digital instrument Cluster and an IVI system. This is possible due to SESA's powerful messaging and data binding tool Courier Interaction Framework for smooth interaction between the HMI application and external data sources. The Holi solution features a modern and user friendly look & feel that has been created in cooperation with the renowned design agency studiokurbos situated in Stuttgart / Germany.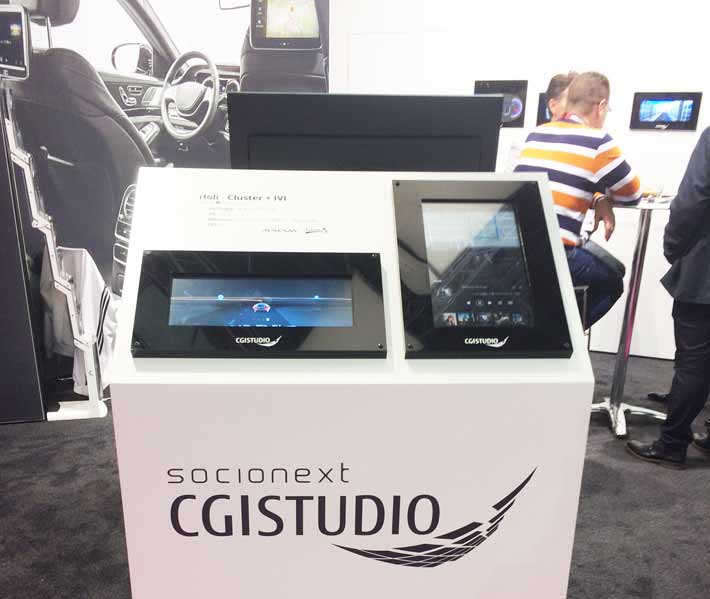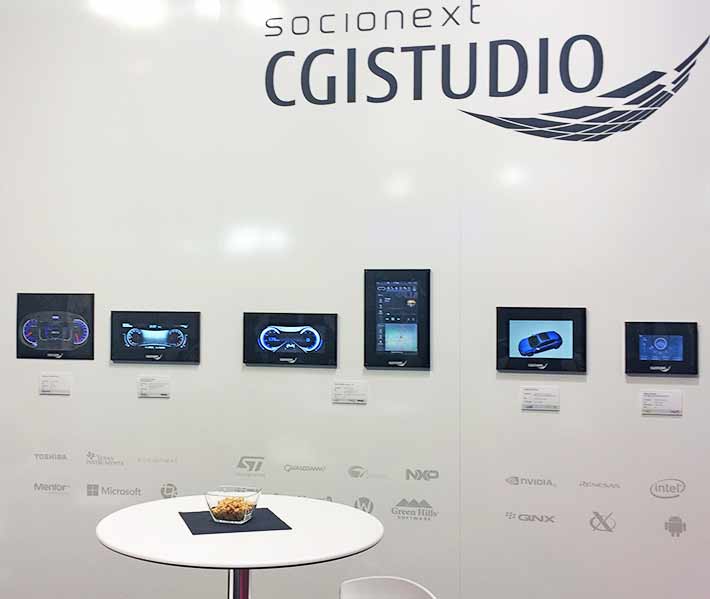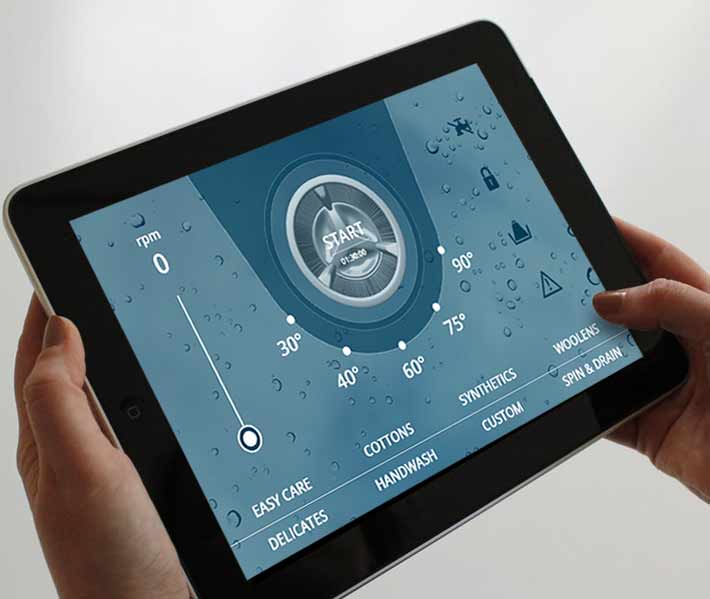 SESA's flagship at the booth: new Holi solution

CGI Studio HMI solutions at Electronica based on Socionext, Renesas, Nvidia, Intel, Cypress and TI.

CGI Studio Homa solution (washing machine UI with tablet remote)

New: Homa (Home appliances) solution

This new HMI solution shows an innovative full-digital 2D/3D Washing Machine UI featuring dynamic 2D and 3D scenes. Via Smart Control it is possible to remotely control and monitor the washing machine via tablet and smartphone.
Functional Safety Cluster Application

Also the functional saftey Cluster that SESA has developed in cooperation with Mentor, a Siemens Business, was presented at Electronica. This approach showcased the separation between an advanced automotive cluster HMI application, implemented using CGI Studio, and safety-critical digitally displayed tell-tale warning indicators.
Roland Winkler (SESA Senior Manager of Product Development) talking about the holistic HMI approach at the Automotive forum.

The highlight at the SESA booth: the new holistic HMI solution (cluster + IVI).
The presentation wall attracted a great deal of attention among the visitors.
Presentation at the Automotive Forum
Wednesday 14th, Roland Winkler, SESA Senior Manager of Product Development, was talking about the holistc HMI approach at the Automotive forum in hall B4.
Electronica 2018 was the perfect platform for making new contacts with several OEM's and suppliers as well as meeting longtime customers from all over the world.
Successful premiere at Electronica 2018
ultima modifica:
2018-11-19T12:07:00+00:00
da