… and the Car HMI Europe Award 2021 in the category "Most Innovative Application of Machine Learning & AI in Automotive HMI + UX" goes to:
… Candera's "Smart AI-based graphics Importer"!

The Smart Importer is the highlight feature of Candera's latest CGI Studio 3.10, which had just been presented at the Car HMI Europe for the first time. Candera's Smart Importer enables all users (including those without programming skills) to automatically generate full functioning HMIs using their designs from any graphics software – opening the door to faster, more efficient HMI creation: https://youtu.be/7RaKP-Pyb7c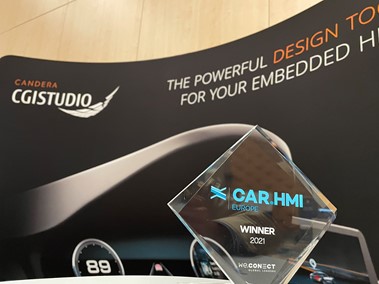 The Car HMI Europe Award exclusively honours exceptional projects in the automotive industry. It celebrates outstanding solutions, innovations and unique development processes in automotive user experience, UIs and HMIs. Luxoft, Mercedes-Benz and Candera are the winners of the 2021 edition.
"The winners have set a new standard for innovation and creative technology within the automotive industry," said Swetlana Torosyan, Producer of the Car HMI Europe 2021. "This award is a testament to the skill, ingenuity, and vision of the creators. Being able to present the future in real time is an absolute privilege."
Among all applications, the best 6 projects were nominated by an internal jury of experts. The criteria for the nomination are:
How easy is the project to realize and to maintain?
How innovative or unique is the approach?
What is achieved through the implementation?
Is the function ready to use?
Cost efficiency – what is the balance of development costs and savings?
At the Award Ceremony during the Car HMI Europe event, all nominees presented their solutions in a short video. Via live voting, the Car HMI Europe community voted for their leaders and projects that show outstanding efforts to bring user interaction and UX to the next level. Congratulations to Luxoft, Mercedes-Benz and Candera for winning the CAR HMI Europe Award 2021!"
Candera wins with Candera's AI assisted Smart Importer the category 'Most Innovative Application of Machine Learning & AI in Automotive HMI + UX'. Runner up is Mercedes-Benz with their "MBUX Zero Layer".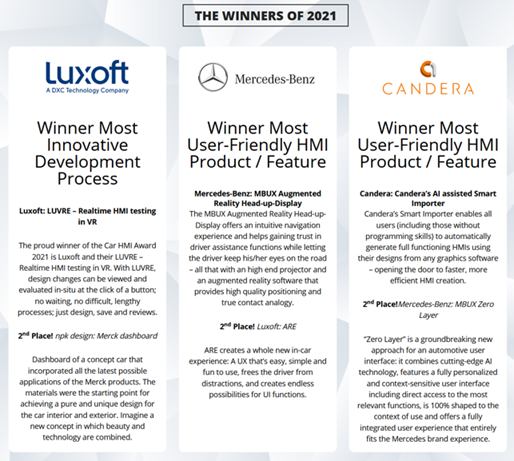 "The automotive industry is going through exciting changes right now, and the winners of this award is clearly at the frontline of their game. We are already looking forward to next year's event and awards to see what they can come up with next", concludes Swetlana Torosyan at the Car HMI Europe Award Ceremony.
The "Smart Importer" now also permits direct import from PSD, Sketch or Axure RP. It helps designers save precious time and costs.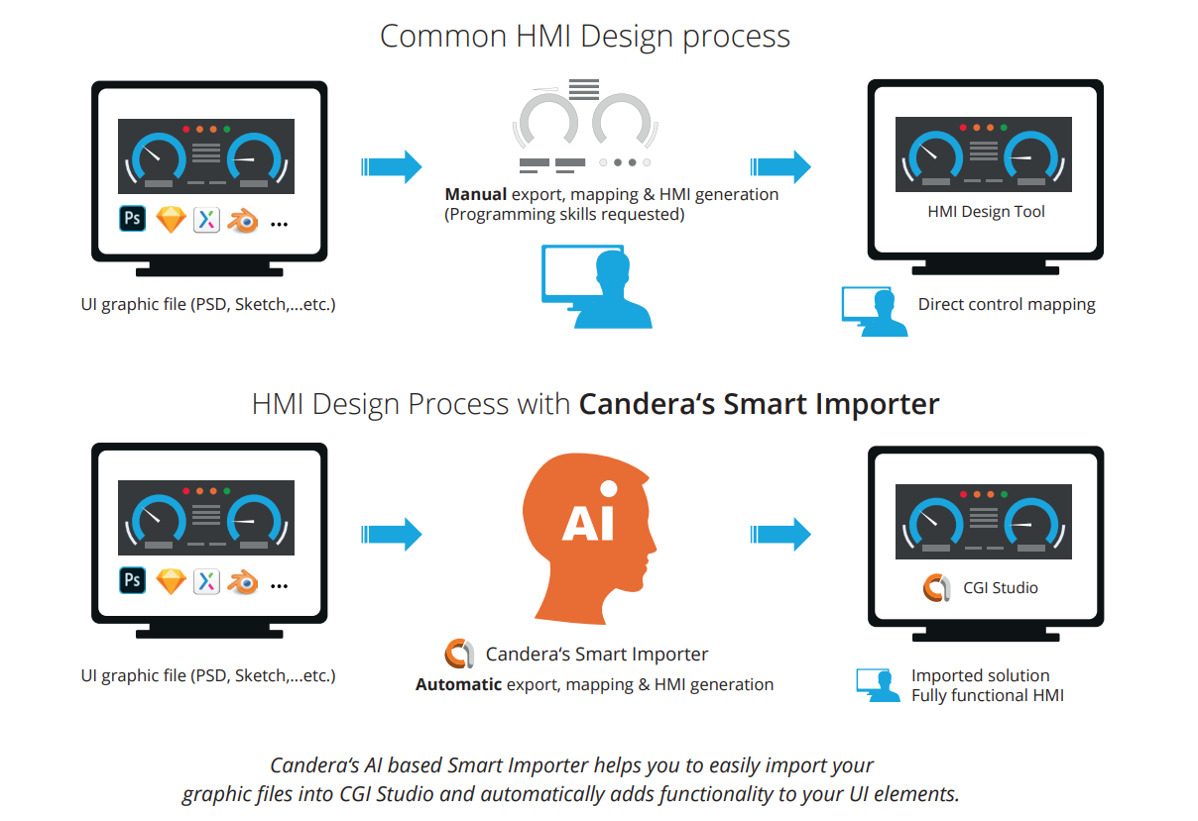 About Candera
Candera, is a leading HMI tool provider and development partner for worldwide automotive and industrial customers. It supports its customers with the CGI Studio tool environment as well as provision of software services mainly in the areas of HMI development and embedded software. Candera GmbH in Linz/ Austria and Candera Japan Inc. in Shinjuku-ku, Tokyo / Japan are both part of the ArtSpark Group situated in Shinjuku-ku, Tokyo / Japan.
Candera's Smart Importer wins Car HMI Europe Award 2021
ultima modifica:
2021-07-19T12:15:54+02:00
da